About Us




HD Forensic Experts Pty Ltd uses well established and credentialed experts in the field to examine and report upon your case. Experts have experience in civil and criminal matters at all levels.




Details of our Director can be found here.
Our membership with professional bodies:
The Australasian Society of Forensic Document Examiners Incorporated
The purpose of founding the Society was to provide a forum for bona fide forensic document examiners to advance the study and application of the field; to facilitate co-operation among persons and organisations interested in forensic document examination; and to encourage knowledge within the field of forensic document examination through publications, meetings, conferences, research and education.
The objectives of the Australasian Society of Forensic Document Examiners Incorporated (ASFDE Inc) are:
- to foster education;
- to encourage scientific research;
- to exchange experiences and
- to provide instruction
in the field of document examination and to promote justice in matters that involve questions about documents.
The American Society of Questioned Document Examiners (US)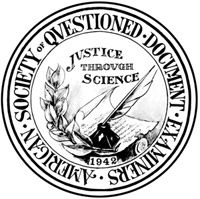 The ASQDE traces its roots to 1913, when Albert S. Osborn initiated a program for the interchange of ideas and research information by inviting Elbridge Stein to discuss various questions related to questioned document examination. Through the years a number of other men were added to the group attending these annual meetings.
Membership in this informal organization was entirely by invitation. Its meetings were completely educational in scope. Annual attendance, as well as full participation in the program, were an absolute requirement for a continuing invitation.
In 1942, Mr. Osborn and fourteen other prominent questioned document examiners formally organized the American Society of Questioned Document Examiners. The ASQDE continues the early traditions of the organization by requiring members to regularly attend and participate in the annual meetings. Guest attendance is by invitation only and guests must also regularly participate as a condition for future invitations.
The Chartered Society of Forensic Sciences (UK)
The Forensic Science Society was founded in 1959 and, with a worldwide membership, is the international professional body for forensic practice. The Society's patron is the High Court Judge, The Hon Sir Nigel Sweeney who has a wealth of experience in cases involving scientific issues.

In 2004, the Forensic Science Society became a professional body, and the voice for Forensic Practitioners, both in the UK and abroad. They are a registered charity whose structure is clearly laid in their constitution and activities are wide reaching.
www.forensic-science-society.org.uk
Membership of these bodies is by peer recognition of expertise.